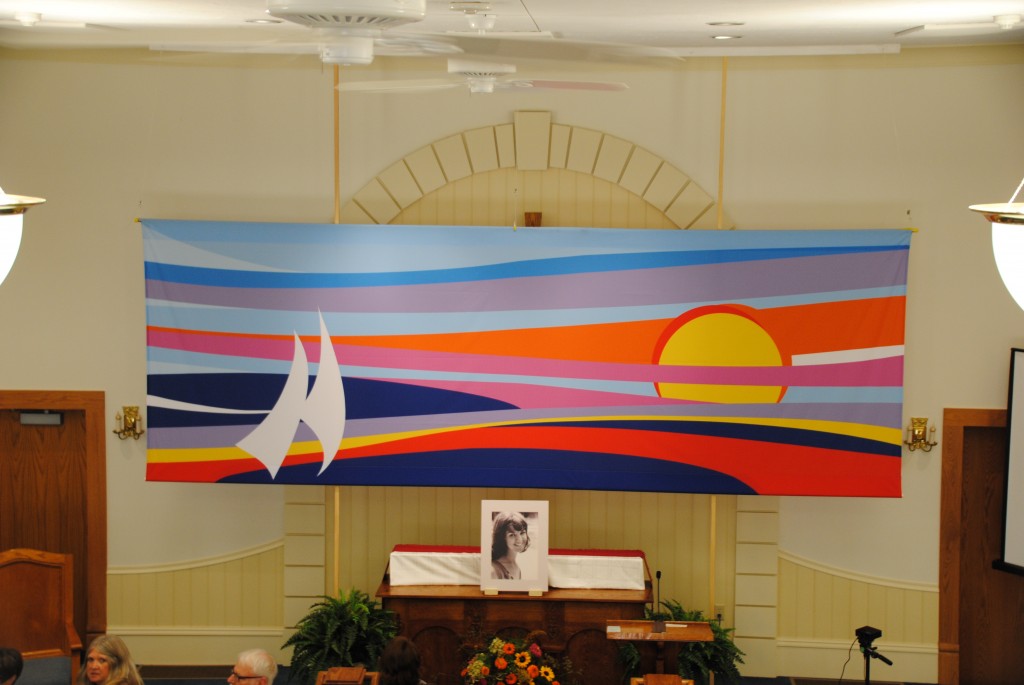 After designing the Northport Marina Wall Mural a new door of opportunity opened for me!  A door I quickly walked through!
Many said the design likened to the 70's era – a style coming back and desired for home and business decor!  Some  even mentioned "Peter Max!" Wow!
So yes I'm recreating the mural artwork into prints, canvas wraps,  wooden panels, banners, building wraps and more!
The 17′ banner to the right originated from the "sunset panel" of the Mural. The banner was created in memory of a woman who liked the sunset scene the best. She also like reds and oranges so I changed the color of some waves. I also went to the church to help decide what size (height and weight) would be best for where it was going to be hung. So I moved elements around to fit that need! Thanks for your interest Trinity Church – United Church of Christ!
Click on link below to see some print options which can be provided in almost any size desired!
Bay Presents Print and Canvas Wrap Options
You can find my artwork at Shoreline Arts in Suttons Bay or contact me directly!
Click here to read more about the Mural Story or view pictures that highlight the mural creation project!