Description
T-Shirt artwork – what a wonderful venue to display my designs!  The Bark Wars design was created for this year's Northport Dog Parade.  The client wanted to increase T-shirt sales so I said "hire me!"  August 13th was the Northport Dog Parade!  Dog lovers and their dog pals paraded through Northport dressed in Star Wars attire!  I also designed the poster and ad artwork.  Of course being a dog lover the project fit me to the T!
The "Cocktails" artwork was created for a gentleman who wanted to improve upon the T-Shirt art he and his buds wore.  Criteria provided simply was use the Iron Cross and a Martini Glass.  A very fun project with a fun customer.
I designed the Bay Presents T-Shirt to celebrate the creation of the Northport Marina Mural.  More than 200 people participated in the painting.  Pennington Collection in Northport is selling the T-shirts.  Or you can contact me directly.
As you can see below… Bo, my pal, made the Paper – Leelanau Enterprise! Hard to tell in this pic below, but Bo was Obi-Wan Kenobi.  Actually I called him Obo-Wan Kenobo.  This photo also made the 2017 Leelanau Visitors Guide!  A friend showed me the photo – which was an excellent way to celebrate the memory of Bo who passed in March of 2017.  Thank you for the reprint editors!
It was a fun day!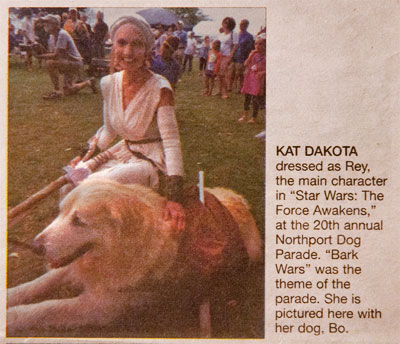 So glad my companion made the paper!