---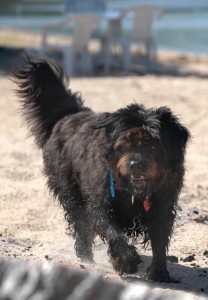 Many describe me as filled with joy.  I believe they have it right.  How could I not be when blessed with parents I want to model, siblings and friends I love, and a studio in the village of Suttons Bay where I'm surrounded with beauty that energizes and inspires.
Creating, designing, digital painting, living and playing in the great outdoors, making new friends and hugging pets – this is what I enjoy.
Yes pets…I'm currently dog-less, but I like keeping my last two four-legged buds images posted.  Bo my Golden-Pyrenees – know as Regal Bo to many in town passes last March.  The other pic is my "late" Schatze – a Puli – I regularly called sweat pea.
In my first years of college I studied ceramics and theatre.  Later I decided a Bachelor's of Science in TV production would provide a larger paint brush for opportunities.  Which it did.
Directing on-camera talent, planning production stages, writing scripts, designing print and digital graphics and editing video programs became my palette of skills.
My career started with General Motors.
Through collaboration with instructional designers I wrote, produced and directed educational and employee communication video programs for Corporate Executives, Plant Managers, Engineering and Corporate Staffs.
Corporate training lead to videotaping and editing experiential rope courses highlighting key interactions and behaviors.
When imagination, resourcefulness and a "good eye" was needed many said, "Can you come up with something? Just do it, we know it'll be great!" Enthusiasm and creativity opened doors to designing marketing displays, developing and producing murder mysteries and treasure hunts for departmental off-site meetings, photographing events and assisting with interior design of corporate training centers and departments.
Additional professional accomplishments include:
Owning and operating Plainly Creative Works, Inc., a full service graphic design and video production business, known for high quality services and products.
Producing, directing and editing Physician Training and Patient Educational Programs exclusively distributed internationally by The National Procedures Institute.
Writing, producing and editing award winning television and radio commercials for the food, healthcare, political and automotive industries.
Producing TV video segments for cable including Discovery Channel.
Currently in my studio in Suttons Bay, Michigan I offer promotional and marketing services including creative consultation, graphic design, computer illustration, script and copy writing, website design, internet Content Management Systems training, book editing and now digital painting.