---
I'm glad we're on the same page!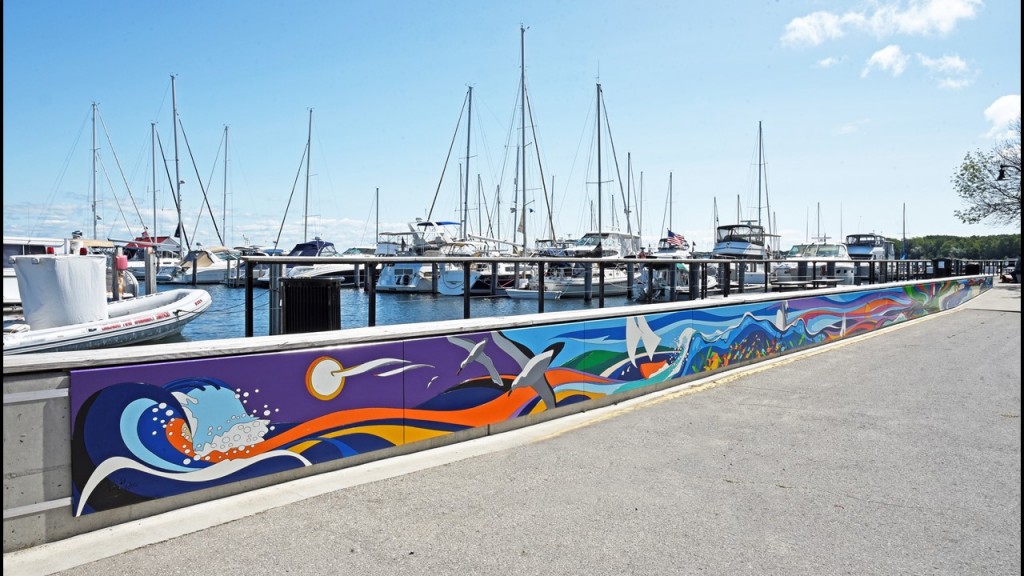 You arrived at a place that spawns inspiration, strengthens belief in your ideas and inspires you to take action!
Boy I need to update this website.  Visit my FACEBOOK account and see what I've been doing!
I was selected to design a mural for the Northport Marina.  I worked with a wonderful team of fabulous artists (Public Art Committee).  It was an honor to say the least.  I designed the mural as a large "paint by number" art piece.  More than 200 community members and visitors help paint the 14 8′ panels creating a mural 109 feet long. The team contributed 100's of volunteer hours to make the "Mural Paint In" successful.
I named the mural – "Bay Presents" – as in gifts.  I plan to write about the process, my inspiration and the meaning behind the name, but in short  . . .
We are gifted daily with gifts from the Bay.  Everyday we experience something new from the bay.  I also believe we should live in the "present" and recognize our blessings.  We should never take what is given to us freely for granted!
So I designed what I call "ribbons of color" that wrap scenes that depict some of the gifts we receive from the bay.
These free gifts are given to residents and our multitude of visitors who love where we live.
I love the creative process – letting go of the reins, letting ideas fly then lassoing the winning concept. Thinking beyond the obvious, challenging all resources, painting the big picture while focusing on the small details – it's stimulating and energizing.  Much creativity is captured in my small design studio snuggled within the beautiful, artistic and friendly village of Suttons Bay, Michigan.
Currently I'm working on new Digital Paintings.  After my debut in Northport at the new Village Arts Building I received exciting responses from both homeowners and commercial businesses.  You can see my artwork at the Shoreline Arts Gallery in Suttons Bay or contact me directly.
My new creations were shown at the Arty Party in Leland Michigan on October 20th and 21 of this year.  Results – sales and offer from one more gallery!  I will post more when I find out more.  Thank you everyone for your support and enthusiasm!
Kat
Recent Work – More T-Shirt Artwork.  What Fun! Thanks for the Post Nancy and Ross Deye on your Facebook page!
"New sponsor Kat Dakota Design (http://dakotadodat.com/) known locally for her giant mural "Bay Presents" at the Northport Marina, has created the artwork for this year's Vineyard to Bay t-shirt & tank top, both just $10 on entries received by August 1st. Both men's & women's styles. Thanks Kat!" 
Vineyard to the Bay Facebook! Check it out!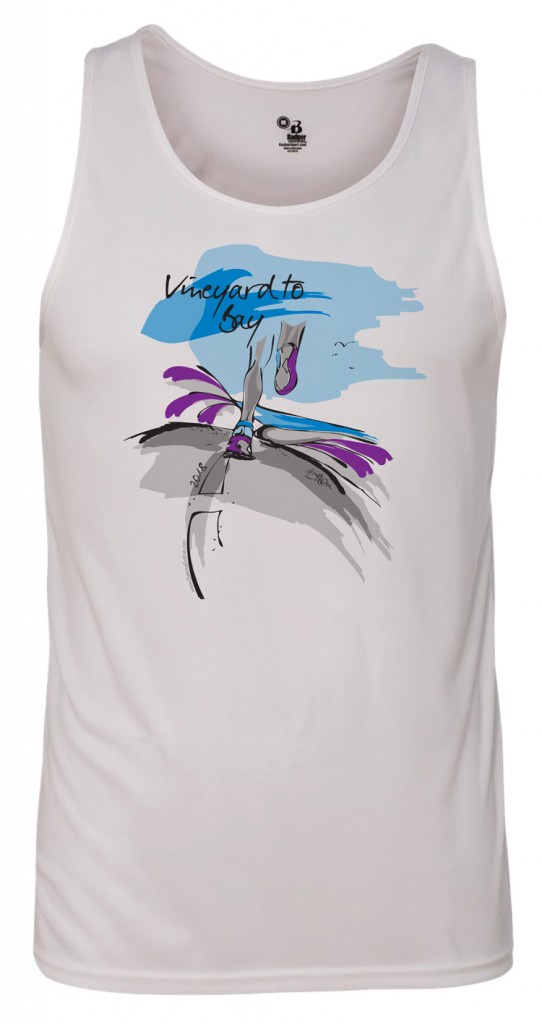 ………………………
Profile:
Meeting Kat Dakota is officially the fastest way to find a new friend.  The bonus, she's inspiring, creative and a great designer.
Kat's business card simply reads, "Kat Dakota Design".  Why?
She explained, "As a designer, I introduce new ideas, new perspectives and create something that's on target. That can mean – arranging a meeting room, composing shots, creating logos, designing brochures, structuring websites, to writing and editing copy." When asked what she likes most.  Without hesitation she smiled and said, "Meeting strangers and ending the conversation as friends."
Her approachable, non-pretentious childlike energy and genuine interest in your success not only makes her hop with excitement but makes her great at what she does.
Her current work features "Digital Painting"…bold graphic-like fine art which is grabbing attention.
Kat Dakota's Digital Paintings are created by starting with her hand sketches which she scans into the computer.  She then uses computer software designed for artist and designers.  The process involves creating digital paint brushes and swatches with varying colors, transparencies, patterns and textures. Art is drawn with the use of computer tablets and different stylus types on separate layers which are blended in multiple ways to create the final art piece.

Take a closer look of her work at Shoreline Arts Galley in Suttons Bay, Michigan.
Don't be a stranger.  Introduce yourself and you'll find a friend that has a lot to offer.
In short –Kat's a designer – a creative professional who packages new ideas into tangible and intangible products that meet clearly defined objectives and goals – by design.
Branding
Logos
Business stationary
Post cards
Brochures
Billboards
Copy writing
Script writing
Ghost writing
Book layouts
Websites
Blogs
Video programs
PowerPoint presentations
Digital media packaging
Way finding signage
Place making
and anywhere in-between – hence the assumed name
DakotaDoDat!