---
I'm glad we're on the same page!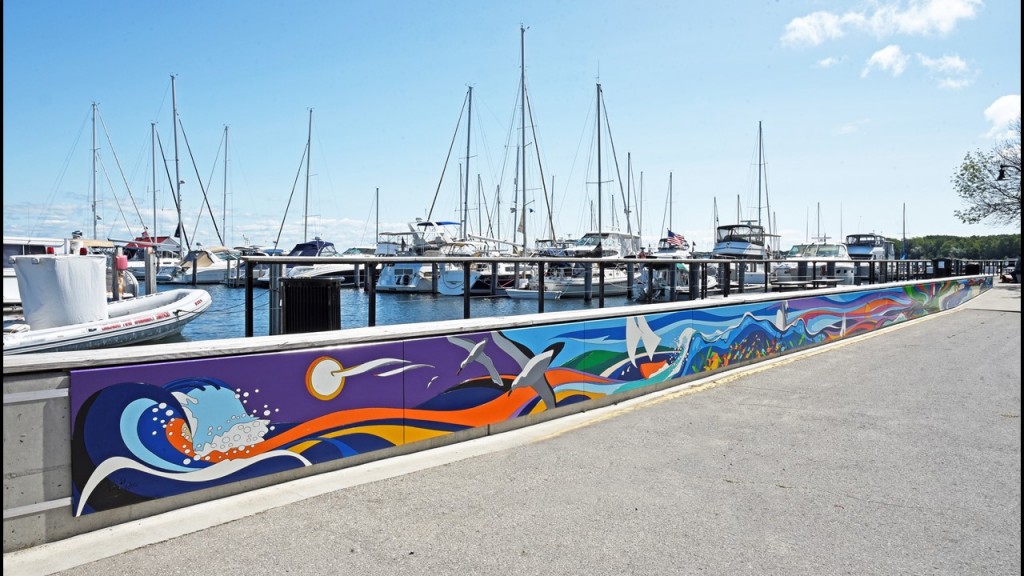 You arrived at a place that spawns inspiration, strengthens belief in your ideas and inspires you to take action!
Recent news!  If you did not see the "Bay Presents" mural last September after its dedication, I hope you go to Northport to see it this summer.  It is reinstalled after a long winter storage.
The Village of Northport commissioned me to create the mural.  After sharing the design many showed their enthusiastic support – Northport Village Council, Northport Marina Committee, the Northport Arts Association, community residents and business leaders.  It was an opportunity for the Northport Public Art Committee to demonstrate how artists play critical roles in community design and problem solving.
My goal – take my marketing ideas and creative designs to more communities where officials, business owners, residents and artists join forces in creating visual arts that promotes and proves the power of cross-generational collaboration, enhances surroundings and quality of life.
In my Suttons Bay Studio, I offer promotional and marketing services including creative consultation, graphic design, computer illustration, script and copy writing, website design, internet Content Management Systems training, book editing, digital painting and mural design.
Two years ago, I debuted my digital painting which opened doors into the art world.  My current artwork emphases – lots of chroma.
It may not be "traditional", but it's grabbing attention.  You can find my artwork in two Leelanau County Galleries – Sleeping Bear in Empire and Shoreline Arts in Suttons Bay.  Stop by in Suttons Bay and see my artwork displayed in Case Daniels courtyard!