---
I'm glad we're on the same page!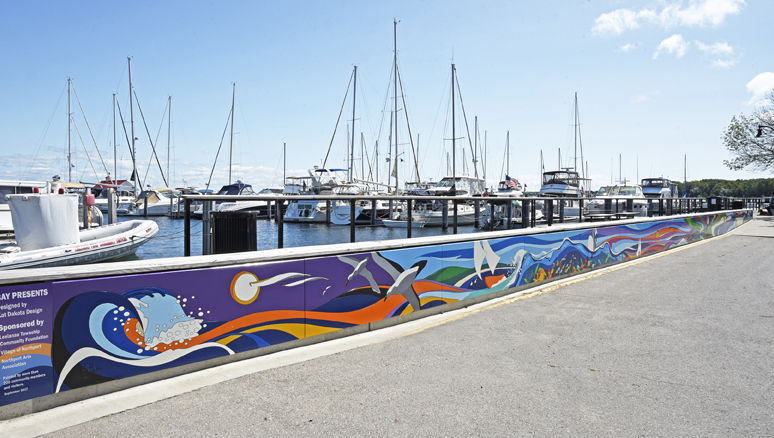 You arrived at a place that spawns inspiration, strengthens belief in your ideas and inspires you to take action!
But here is a small interruption…
Recent news!  The Traverse Magazine interviewed me about the Northport Marina Mural I designed and named "Bay Presents".  What fun!  The writer and I hit if off with a lot of conversation which expanded from discussion about the mural to life in general.  Thank you Meaghin I enjoyed the talk! Soon the article will be posted in "The Daily Splash" on-line newsletter created by the Traverse Magazine.  I will let you know when it is posted!
Following me on Facebook!
Yes that is exciting for me.  I hope you all read the article.  You will need to subscribe to the free newsletter.   The link is provided further down on this page.  After you click on the link, scroll down to the bottom of the page so that you can select "The Daily Splash".
Please share the story.  I hope for another opportunity to work with other communities in designing murals that engage people of all ages.  Thank you very much for your support. Here is a link.
Back to my general story…in my Suttons Bay Studio, I offer promotional and marketing services including creative consultation, graphic design, computer illustration, script and copy writing, website design, internet Content Management Systems training, book editing, digital painting and mural design.
Two years ago, I debuted my digital painting which opened doors into the art world.  My current artwork emphases – lots of chroma.
It may not be "traditional", but it's grabbing attention.  You can find my artwork in two Leelanau County Galleries – Sleeping Bear Gallery in Empire and Shoreline Arts in Suttons Bay.  Stop by in Suttons Bay and see my artwork displayed in Case Daniels courtyard!
I still have a few Northport Bay Presents T-Shirts left!  Call me if you would like them.  Last inventory was 144 units now down to 24!  Get them while they are hot.  The T-shirts are per-shrunk – soft style 100% cotton!  Comfy!  I take Pal Pal and credit card.   Thanks!  231.668.1116